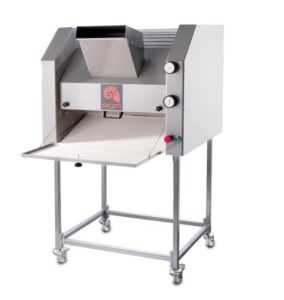 Machine studied to obtain with facility and great productivity French loafs with maximum length 70cm.
Mounted on frame with turning wheels, it can also be positioned on a worktop thanks to its small dimensions. The dough thickness and the French loafs length are easily
adjustable by two different handwheel positioned on the front of the machine.
The presence of a microswitch on the loading hopper ensures a job in total safety.