Bread slicers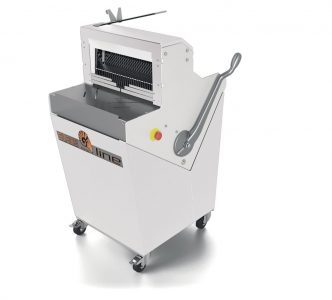 How should you choose your bread slicer?
Various factors have to be considered when choosing a bread slicer
A top quality product is made from top quality ingredients and tools, which is why it is very important to choose the right bread slicer after carefully considering each single aspect first.
Bread slicers can be automatic, semiautomatic or industrial, so it depends on the individual requirements and the specific use that will be made. The best manufacturers of automatic bread slicers give you a choice of worktop models, a model on a shelved trolley on wheels or horizontal models.
No matter what type of bread slicer you need, what make it special are the optionals and accessories. Crumb trays, slice guide flaps, stainless steel chute for packaging bread, Teflon blade kit, blade lubrication kit, safety guards and bag openers can all be very useful and customise your slicer and make it as efficient as you want.
The features that make one bread slicer better than others
What makes the difference:
The best bread slicers are already built with certain extremely useful elements and optionals, such as being able to select the different cutting speeds, or small structural details, like stainless steel parts that are in contact with the bread..
The crumb tray is another feature that you will definitely love, not only because it makes the slicer easier to clean but also for all the crumbs you won't have to pick up!
Safety is another important factor, which is why the microswitch prevents the appliance being turned on if it is not closed correctly.
Last but not least in importance is the design, an attractive design and choice of customized colours is that special touch that not many manufacturers give you, and what is more, the compact size means you also have more space in your workshop.
Silent bread slicers are a synonym of quality, an appliance that deserves the right investment and the right commitment when making your choice.
If you still have any doubts, or you are just looking for a partner who will pamper you with all these optionals and accessories, enabling you to customize your appliance as you want, then we are here for you! Contact us; we will be delighted to help. 😊